Infinity Flyer Train
2017 – Present
Skyline Attractions designed and engineered the next generation of roller coaster trains, the Infinity Flyer, for Great Coasters International, Inc. The project has spanned several years, starting in 2017, as the design has been continuously tweaked and improved. These revolutionary, one-of-a-kind vehicles utilize a clever modular design to heavily cut down on maintenance costs, create more inclusive attractions with lower minimum height requirements, and allow for never-before-seen elements and maneuvers on a GCII attraction, thanks to their Class V classification and articulation capabilities. The trains also have the ability to be added on existing attractions from other manufacturers, helping to preserve classic rides while introducing modern safety standards. And with near infinite theming opportunities, the trains can look as though they were exclusively designed for any attraction.
Skyline Attractions has worked hand-in-hand with GCII on the Infinity Flyer design for several years. The Infinity Flyer train is the successor to the incredibly successful Millennium Flyer train design, which members of the Skyline team also spent years working with. An earlier iteration of the new Infinity Flyer design was first unveiled at the 2018 IAAPA Expo in Orlando, Florida, USA. Skyline later tested the vehicles on a custom-built test track at its facility before successfully testing a train on the White Lightning roller coaster at Fun Spot America, also in Orlando. Skyline Attractions' involvement with the upcoming roll-out of the train design on amusement rides has also included all technical documentation, preparation for design reviews, and a thorough containment analysis.
The first Infinity Flyer trains will make their debut in 2023 on the Zambezi Zinger roller coaster at Worlds of Fun in Kansas City, Missouri! The two 16-person trains have a sleek safari vehicle theme, complete with zebra print side panels and a custom aluminum lead car. The trains have a modular design, allowing them to ascend the ride's iconic spiral lift hill.
Why Choose the Infinity Flyer?
The Infinity Flyer train allows for greater articulation in all directions. Compared to the Millennium Flyer, the minimum turn radius drops from 18 ft [5.5 m] to only 8.95 ft [2.7 m], and minimum crests and valleys go from 35 ft [10.7 m] and 25 ft [7.6 m], respectively, to only 13 ft [4 m]. This allows for more thrill in a smaller space.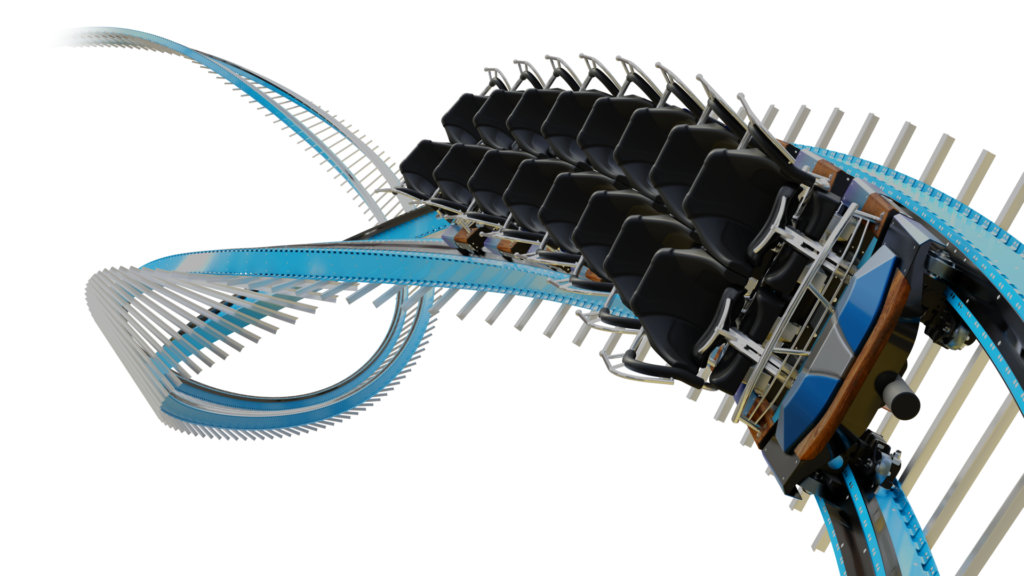 Among other innovative improvements that help to reduce general maintenance, the Infinity Flyer chassis is composed of large machined parts. This reduces the number of welds in the train by 80% when compared to the Millennium Flyer!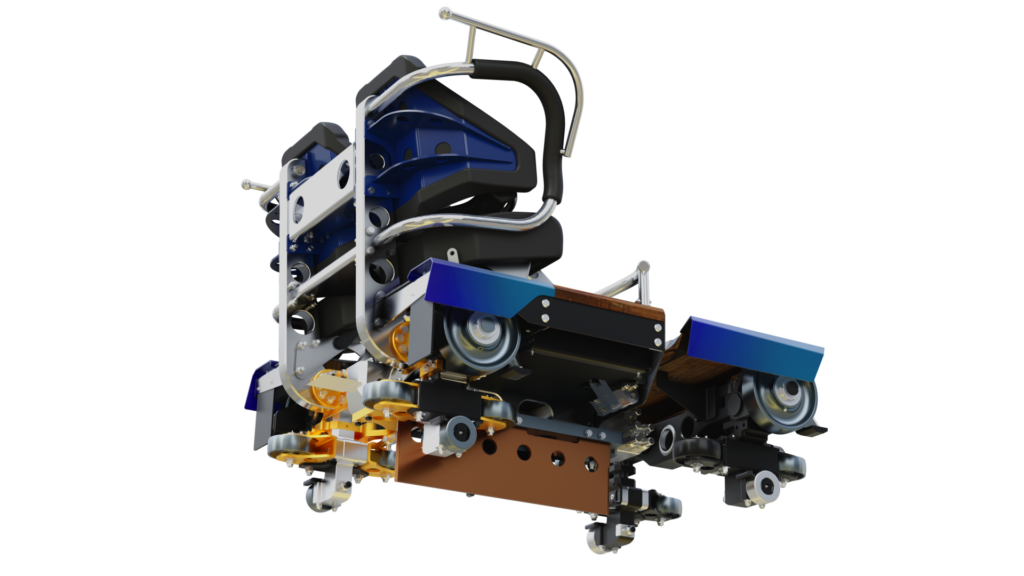 The Infinity Flyer train features a clever design that makes the train the most versatile available. Components can be easily adjusted for varying chain lift geometry, brakes, and launch systems. The Infinity Flyer train can be used on the weld-free Titan Track or on classic wooden roller coaster track.
The Infinity Flyer is manufactured by Great Coasters International, Inc., which is based out of Sunbury, Pennsylvania and works with a variety of American vendors and suppliers to bring the one-of-a-kind train to life. This list includes Skyline Attractions, based out of Orlando, Florida, who fully designed and engineered the Infinity Flyer train.
The Infinity Flyer train's hydraulic/mechanical locking meets EN and ASTM standards for Class IV and Class V restraints, allowing for a minimum height requirement as low as 40 inches [1.02 m], depending on ride dynamics. The Infinity Flyer train also features over-molded foam seats and optional headrests and seatbelts, optimizing comfort and safety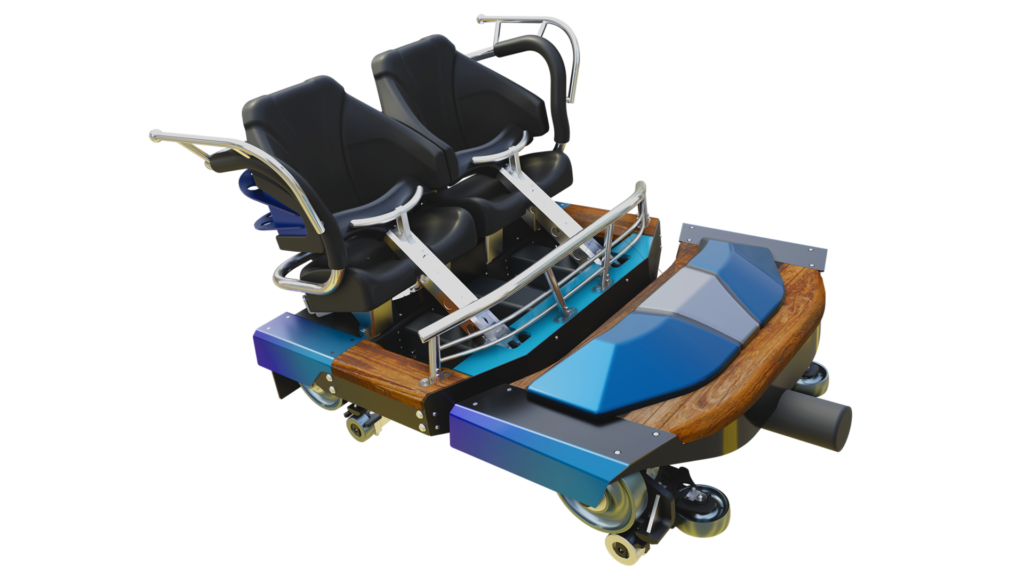 The Infinity Flyer train can be installed on a new ground-up attraction, or added to an existing wooden roller coaster – even if from a different manufacturer than Great Coasters International, Inc.!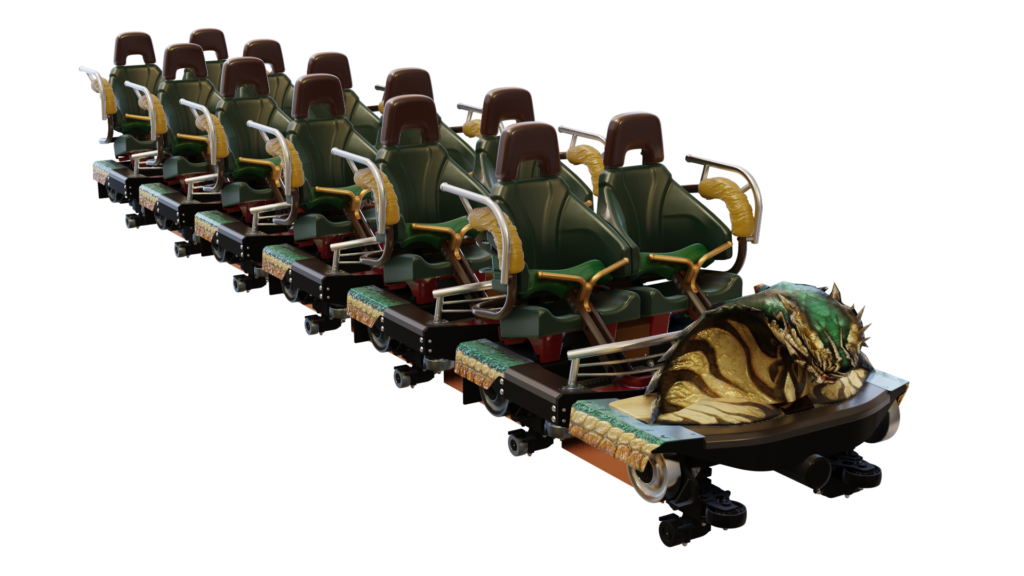 Infinite Theming Opportunities
The Infinity Flyer can match any theme with custom components, including specialized running boards, foam padding, and nose pieces.