Orlando, FL, USA – Skyline Attractions is thrilled to return to the IAAPA Expo this week, following the premier amusement industry tradeshow's absence in 2020. The Orlando, Florida rides manufacturer will be highlighting a variety of new and returning products at Booth #4604, including its revolutionary new children's roller coaster, P'Sghetti Bowl, and major modifications and improvements to its line-up of compact steel roller coasters.
P'Sghetti Bowl Children's Coaster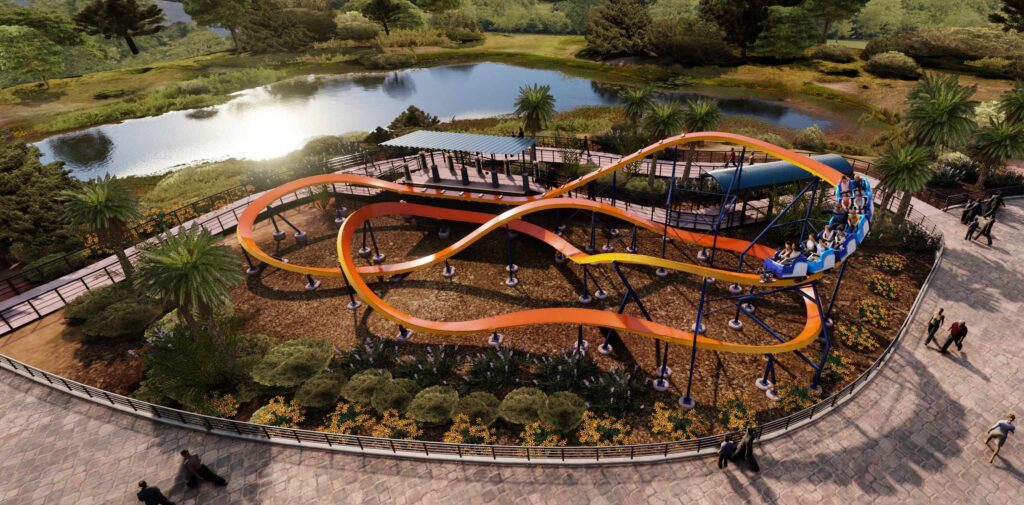 P'Sghetti Bowl is the star of Skyline Attractions' booth this year. The new children's roller coaster design is showcased with a collection of scale-models, conceptual animation, and even a piece of its innovative, weld-free track.
Of the six off-the-shelf models readily available – ranging from the smallest, Model A, to the largest, the intertwined Models E&F – four are at the show in scale-model form. This includes all three aforementioned models (A, E, and F), as well as Model C, which is a larger layout that crisscrosses over itself. The models are 1/50-scale and sure to catch the attention of anyone passing by.
P'Sghetti Bowl offers parks, FECs, and zoos the opportunity to theme their roller coaster in brand new ways, including custom track designs.
"With the single-rail design and relatively modest size of these rides, we have the opportunity to be the first ride manufacturer to allow a park or FEC to theme the roller coaster track itself," Skyline Attractions Vice President Chris Gray said. "Instead of looking like a roller coaster track, it could now look like a snake, a racetrack, or whatever a customer wants to fit their theme."
The track can also feature inset lighting, making the ride stand apart from other roller coasters and amusement rides. A 1/12-scale-model of the track, showcasing several theming opportunities, is on display at Skyline Attractions' booth.
The biggest piece of P'Sghetti Bowl on display at the booth is a literal piece of P'Sghetti Bowl – a five-foot section of the weld-free track. The track has a 2' gauge and can be fabricated to navigate twists, turns, and drops. The sample piece at the IAAPA Expo showcases the new track's ingenious design, which consists of a construction of folded sheet metal and rivets. The omission of welds allows for reduced costs, reduced maintenance, and improved quality control.
Visit the P'Sghetti Bowl products page for more information!
Skywarp II and Other Compact Coasters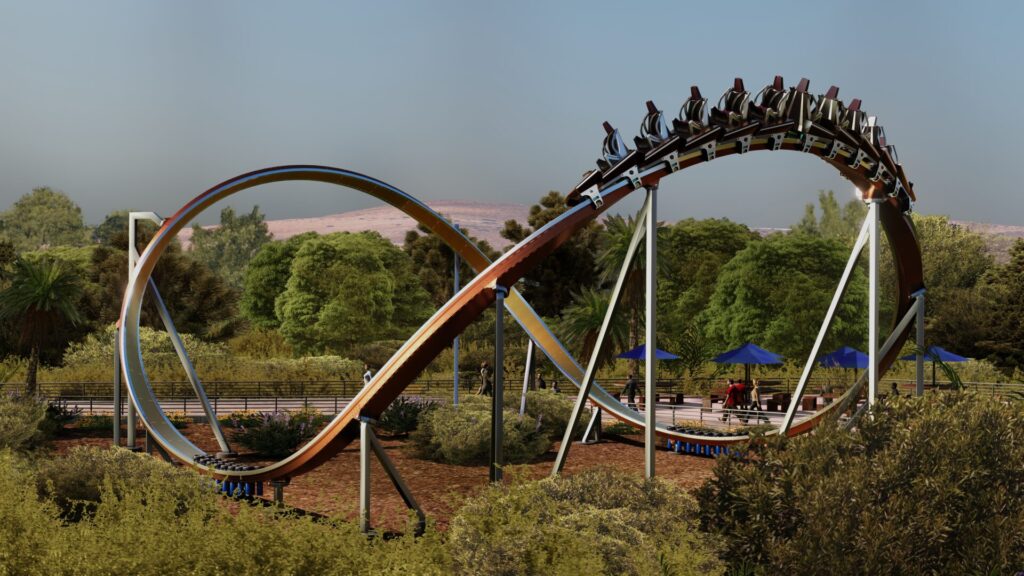 Skyline Attractions is also highlighting its line-up of compact steel roller coasters: Skywarp II, Orbit II, and Horizon II. The trio of thrill rides has been completely re-designed and re-engineered and now feature major improvements to the track, train, and restraint designs, as well as a new ride system that will reduce downtime and improve rider comfort.
Each roller coaster layout offers big thrills in a small footprint for a low cost, making them ideal for smaller parks and FECs. The rides offer an experience comparable to a bigger roller coaster with their multiple cycles, and the dueling train option available on each creates a visually impressive attraction that draws guests in.
Visit the Thrill Rides products page to learn more about all three ride models!
Crazy Couch and Strike-U-Up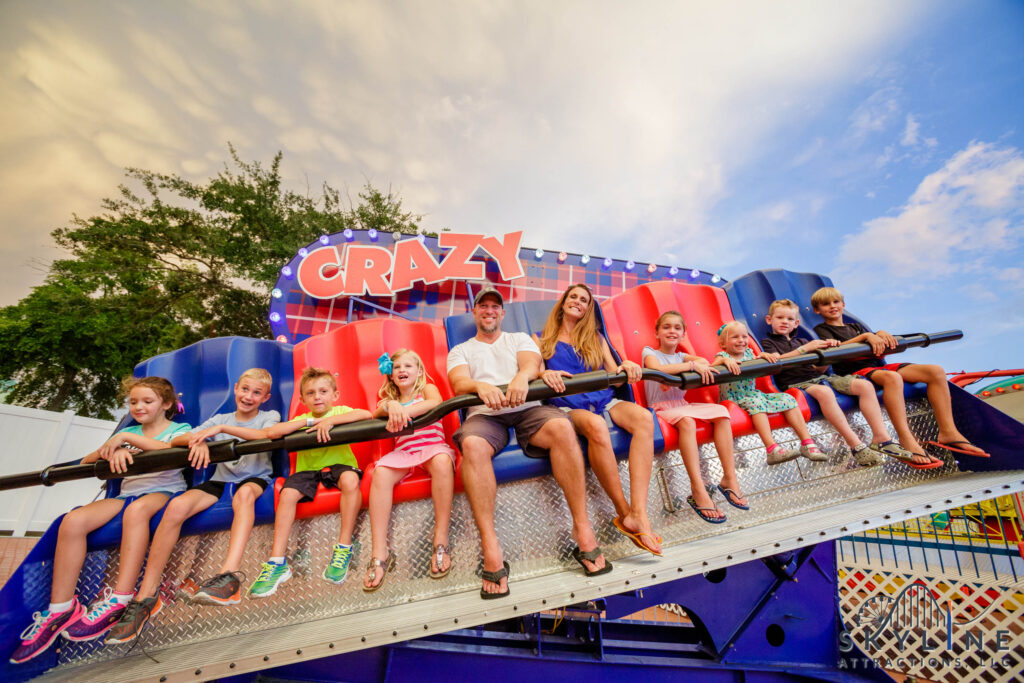 In addition to its roller coasters, Skyline Attractions also offers a catalog of family and children's rides. This includes the Crazy Couch children's ride, which tilts passengers side-to-side and up-and-down in a zany, seemingly-random pattern, and the Strike-U-Up, which is a combination midway game and amusement ride. Both attractions have inclusive height requirements, small footprints, and low price tags.
Visit the Children's Ride products page to learn more about both rides!
Design and Engineering Services
Skyline Attractions has provided its design and engineering services to a diverse collection of companies both inside and outside the amusement industry. This includes the design and engineering of several world-class wooden roller coasters for Great Coasters International, Inc., including Texas Stingray at SeaWorld San Antonio, as well as new and innovative products for Great Coasters like its Titan Track steel track and Infinity Flyer roller coaster train. Skyline Attractions has also had the opportunity to offer its design and engineering services to other ride manufacturers and a growing collection of theme parks, including several in Orlando.
Visit the Engineering Services page to learn more about our capabilities!
Conceptual Animations and Scale Models
Just like Skyline Attractions has lent its capabilities to other manufacturers for design and engineering, the company has also provided its creative know-how to artistically bring other manufacturers' ideas to life. We've created photo-realistic scale models for companies like Mack Rides and Great Coasters International, Inc., as well as gorgeous conceptual animation for US Thrill Rides, Extreme Engineering, and others.
Visit the Scale Models & Conceptual Renderings page for a selection of our past work!
Visit Skyline at Booth #4604
Skyline Attractions is at the IAAPA Expo at Booth #4604. Skyline team members will be at the booth throughout the entirety of the show and are available to share more information about any of the company's growing list of products and services.
About Skyline Attractions
Skyline Attractions, LLC is based in Orlando, Florida, USA and strives to be the best manufacturer of quality American-built rides that the most demanding buyers require. The company was founded in 2014 and has since worked on the design and manufacturing of amusement rides across the globe.