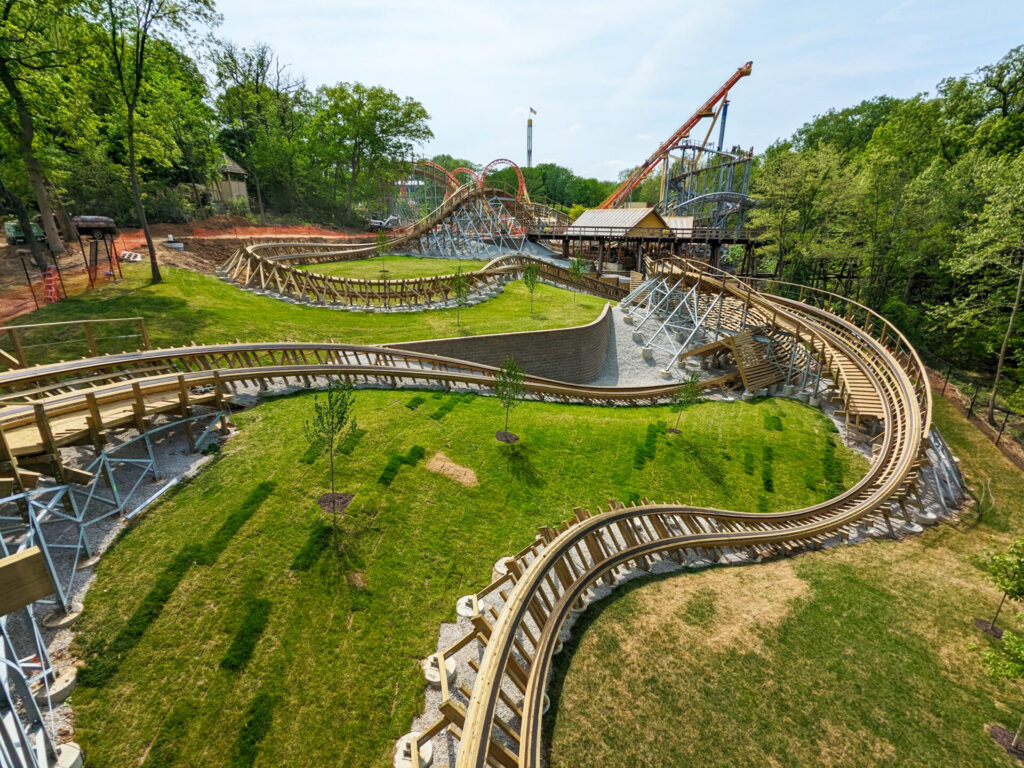 Kansas City, Missouri, USA – Skyline Attractions is thrilled to share that the highly-anticipated Zambezi Zinger roller coaster at Worlds of Fun amusement park has officially opened! This exciting new attraction was designed and engineered by Skyline Attractions for Great Coasters International, Inc. (GCII) and promises an unforgettable experience for adrenaline seekers.
The Zambezi Zinger is a hybrid roller coaster, boasting a unique combination of wood and steel track and supports. The innovative ride also introduces the first spiral lift hill on a hybrid roller coaster, towering over seven stories tall and offering riders a panoramic view of the surrounding area. The attraction is a re-imagining of the original Zambezi Zinger, which operated at Worlds of Fun from 1973 through 1997.
Zambezi Zinger is among the latest roller coasters manufactured by GCII, which has built over two dozen other roller coasters in ten different countries. Zambezi Zinger is the company's first ground-up ride to utilize the cutting-edge Titan Track, a track design by Skyline Attractions. The track, which has already been installed on over half-a-dozen existing rides, is a weld-free steel track design that allows for reduced maintenance and an incredibly smooth ride experience.
"Titan Track is proving to be a very versatile technology and a useful asset to have in our engineering toolbox for Great Coasters International," Skyline Attractions Director of Creative Processes Dustin Sloane said. "While it has thus far been mostly used for re-tracking in high stress sections of existing wooden coasters, Titan Track also allows us to do things that were never possible with traditional wooden coaster track. The lift hill on Zambezi Zinger, with its lofty floating track-spans, dramatic cantilevers, and precise curving drive mechanisms, is the first of hopefully many examples showcasing the design flexibility that this new track offers."
Zambezi Zinger's Titan Track and wooden track are seamlessly blended together with an innovative staggered track design at the transition points. This allows for reduced maintenance and ensures a comfortable ride experience. Similar transitions have already been installed on all other Titan Track installations.
In addition to Titan Track, Zambezi Zinger also showcases the debut of the Infinity Flyer train design. This modular train design not only delivers a remarkably smooth ride experience but also simplifies fabrication and reduces maintenance. Zambezi Zinger excels in providing tight turns and zippy banking that are made possible by the Infinity Flyer train.
"We are thrilled to bring the Zambezi Zinger to life," Skyline Attractions Design Engineer Tyler Mullins said. "This ride showcases the exceptional capabilities of the Infinity Flyer train, offering guests a truly exhilarating journey through the twists and turns of this unique roller coaster that was custom-designed for Worlds of Fun's topography."
Zambezi Zinger was the first GCII project where the roller coaster's structure and foundation was fully designed and analyzed in-house at Skyline Attractions. This allowed for a streamlined workflow and opens up new opportunities for Skyline Attractions and GCII on future projects.
About Skyline Attractions
Skyline Attractions is an amusement ride design and manufacturing firm based in Orlando, Florida, USA. With a strong focus on innovation, quality, and customer satisfaction, Skyline Attractions designs and engineers a variety of rides for amusement parks worldwide. Their portfolio includes the P'Sghetti Bowl Children's Coasters, TrailRunner Family Coaster, and a collection of compact steel thrill coasters. Skyline Attractions also provides its design and engineering services to Great Coasters International, Inc. and has designed and engineered many of the company's premier rides, including Texas Stingray and Roaring Timbers.