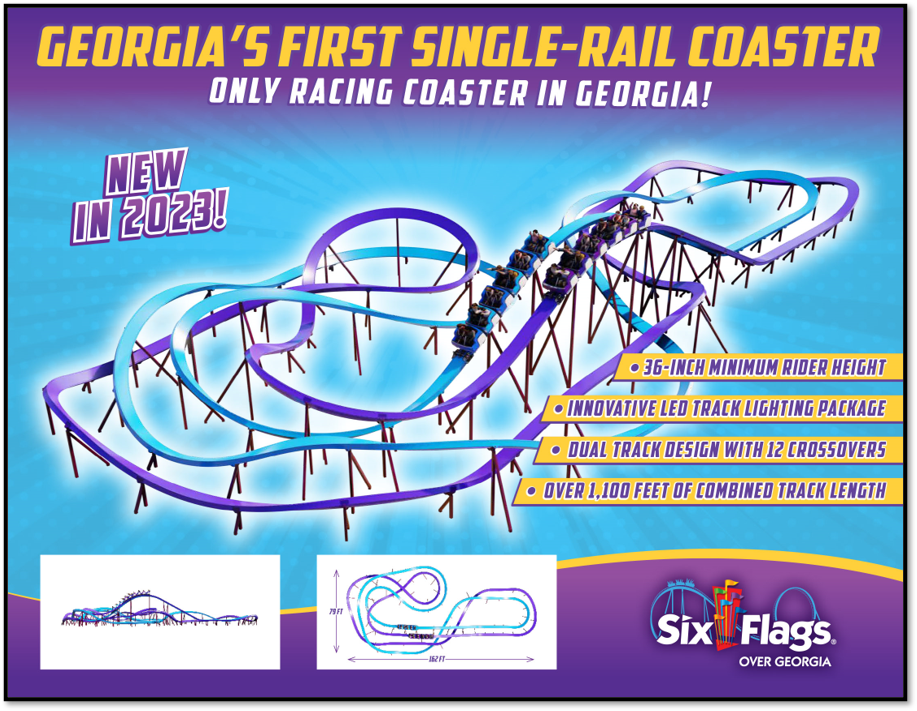 Austell, Georgia, USA – Skyline Attractions is thrilled to share that a racing P'Sghetti Bowl Children's Coaster will open at Six Flags Over Georgia in summer 2023! The twin-tracked roller coaster was announced today at American Coaster Enthusiasts' No Coaster Con event in Rosemont, Illinois. The ride will be the park's 12th and 13th roller coasters and is being designed, engineered, and fabricated by Skyline Attractions. Six Flags Over Georgia's new attraction is the second P'Sghetti Bowl installation announced for 2023, with Six Flags Fiesta Texas in San Antonio, Texas announcing its own racing P'Sghetti Bowl last month.
The P'Sghetti Bowl Children's Coaster product was first introduced by Skyline Attractions in September 2021. Product highlights include the innovative weld-free track design that allows for a streamlined fabrication process and lower price tag, as well as the inclusive train design that is capable of comfortably seating either an adult and child or two children in each row.
The twin tracks on Six Flags Over Georgia's new ride span a cumulative 1,124 ft [342.7 m] and are as twisted as a bowl of spaghetti, each crossing over and under other segments of track a dozen times during the ride cycle. The two sides can operate simultaneously for racing action or with a single side for limited operation.
"The new P'Sghetti Bowl roller coaster at Six Flags Over Georgia is an awesome addition to the park's line-up," Skyline Attractions Design Engineer Tyler Mullins said. "Not only will it be a wonderful new ride experience for the park's younger visitors, but it's still accessible – and a ton of fun – for their parents and grandparents. Riders of all ages will love the ride's racing element, numerous crossovers, and just how bright and colorful the roller coasters are."
Six Flags Over Georgia's P'Sghetti Bowl will feature the Aurora LED lighting package. This enhancement, first showcased at the 2022 IAAPA Expo, transforms the roller coaster's tracks into a kaleidoscope of lights and colors with a multitude of LED panels. This feature can be used for custom theming, holiday overlays, paid sponsorships, or other displays.
P'Sghetti Bowl Children's Coaster is available in six off-the-shelf models, with the two installations opening in 2023 consisting of Models E&F. The product can be installed indoors or outdoors and can be custom-designed to fit any park, zoo, or FEC's existing space. For larger spaces, Skyline Attractions also offers the TrailRunner Family Coaster product. All Skyline Attractions roller coasters are available with the Aurora LED lighting package.
About Skyline Attractions
Skyline Attractions, LLC is based in Orlando, Florida, USA and strives to be the best manufacturer of quality American-built rides that the most demanding buyers require. The company was founded in 2014 and has since worked on the design and manufacturing of amusement rides across the globe, including world-record wooden roller coasters for Great Coasters International, Inc.